My recent internal deliberations on what to replace my ailing computer setup has led to quite a few false starts on what I put into my virtual shopping cart. As much as I wanted to love the new MacBook Air, the power and flexibility didn't hit enough cylinders to trigger my 'Must Buy' button. The iPad Pro has everything I believe I'd want, except an OS to achieve the 'Pro' status the iPad has in it's name. This led me to go with the Mac I've been hoping would be updated for over 6 years.3
The final configuration I chose is: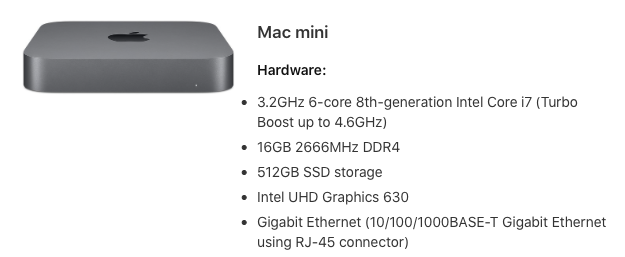 Overall this will be setup that I can live with for quite a while.
Configuration Choices
The Mac Mini has 4 configurable items when you order it:
Processor
Hard drive
Memory
Network adapter
I don't foresee the need for 10 Gbit networking in my future, so I opted for the default Gigabit ethernet card. The other three options did give me something to think about because not all choices are an easy financial decision. Base price for a stock Mini is $800. The fully decked out version, with all the bells and whistles, sets you back $4200. I needed to find something in the middle.
Processor
The Mac Mini has been updated to use eighth generation Intel CPU's. There are two key points to note here. One, Apple is using the relatively recent version of Intel CPU's.1 Two, only the i7 processors have hyper threading. From Apple's processor selection notes:
The standard 3.0GHz 6-core Intel Core i5 processor has 9MB of shared L3 cache and features Turbo Boost speeds of up to 4.1GHz. The 3.2GHz 6-core Intel Core i7 processor has 12MB of shared L3 cache, Turbo Boost speeds of up to 4.6GHz, and Hyper-Threading technology.
My Mac Mini will not only be my desktop computer, but will also be the media server for our house. So I opted for the best processor I could get right now.
Hard Drive
This was probably the easiest choice to make. My current laptop for work has a 512GB SSD and that's been the right size for almost 3 years now. Going with a smaller hard drive could have been an option due to the four USB-C ports and how cheap external storage is right now. While the speeds of the built-in PCI drives are impressive, most of my file storage will be on external drives anyway - movie library, photo collection, etc.
Memory
This is the option I could have been smarter about. The memory options when I ordered the Mac Mini are shown below. As you can see the cost for memory isn't additive, but multiplicative.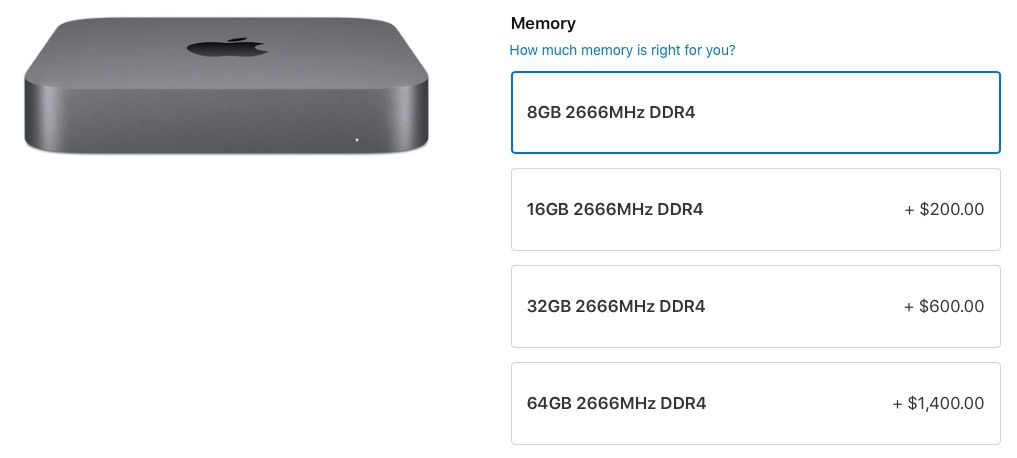 Based on the pricing I went with the 16GB option because at the time I ordered the Mini, I wasn't sure if the memory upgradable. After I placed the ordered I got some additional information from an Apple Insider review.
Is the RAM user-expandable? Yes. The slots are SO-DIMM slots, and are mostly accessible to the user. In conversations with Apple corporate employees, we've been told that users with a "modicum of skill"4 can get to the pair of RAM slots.
The same review further adds:
Apple says that the new Mac mini uses 2666MHZ DDR4 SO-DIMM RAM. Specifically, it looks like DDR-4 PC4-21300, non-ECC unbuffered RAM.
So doing a little searching I found a 32GB memory kit is currently going for around $280.
So if I'd done a little more math before I ordered,2 I could have saved myself a bit of money and a higher spec Mini.
| Current Configuration | Cost |
| --- | --- |
| i7 Mac Mini | $1299 |
| 512GB Hard Drive | $200 |
| Apple 16GB | $200 |
| Total | $1699 |
| Optimal Configuration | Cost |
| --- | --- |
| i7 Mac Mini | $1299 |
| 512GB Hard Drive | $200 |
| Apple 8GB | inc. |
| 3rd Party 32GB Memory Kit | $280 |
| Total | $1779 |
So for $80 more I could have 32GB ram in the same configuration I ordered.
Future setup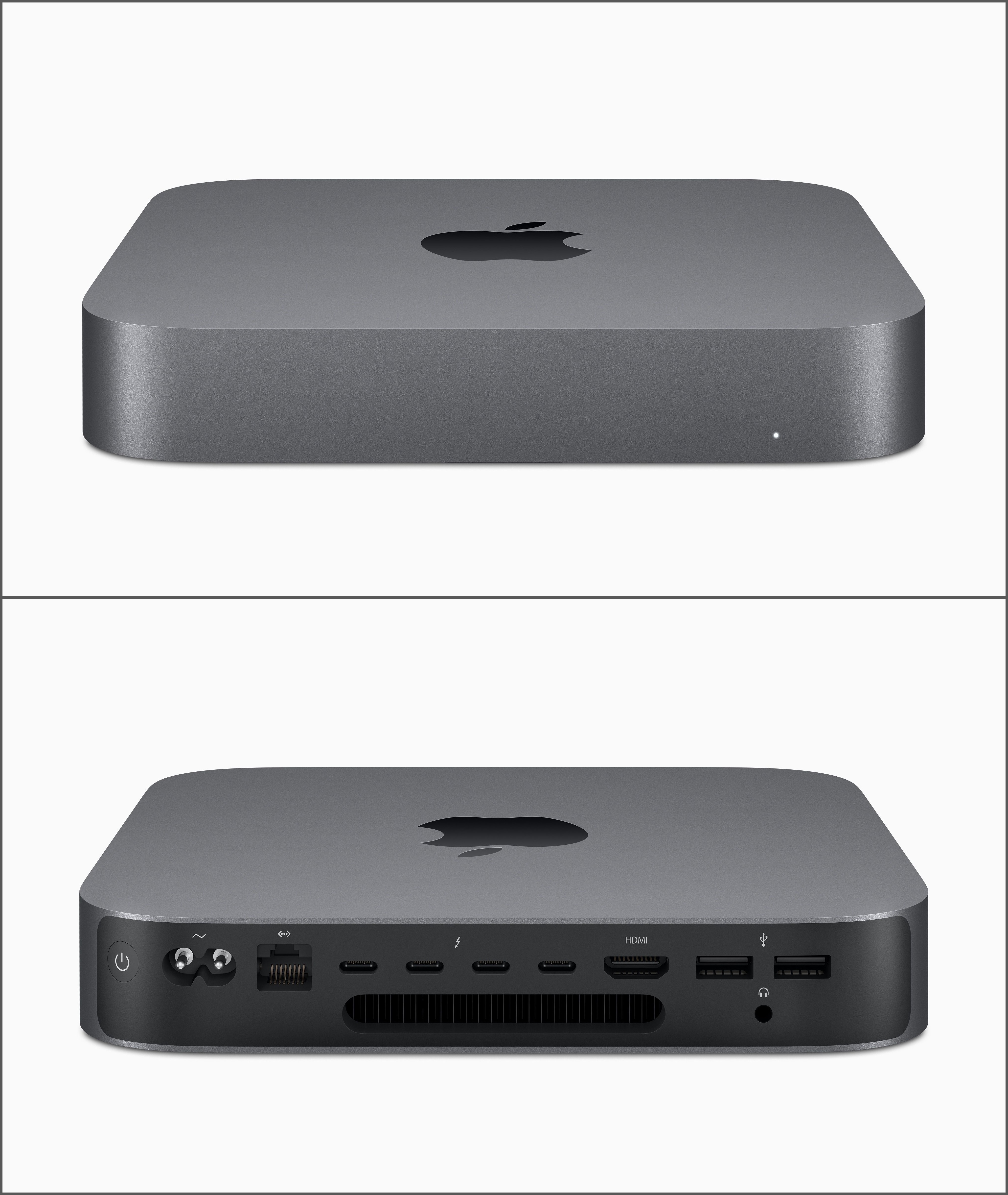 The new Mac Mini will a home server for several projects:
Plex Server: I'll resurrect my Plex server after my previous Mac Mini decided it was doing enough work.
iTune Server: We still have a mix of Roku and Apple TV's in the house, so to stream ripped movies I'll turn on iTunes Sharing off the Mac Mini.
Windows Desktop: As much as I appreciate that I have a Mac at work, so many of the things I work with today are Windows based, especially the world of PC games. So I'll setup Boot Camp and dip my toes into PC gaming.
The most exciting idea of the Mini is using an eGPU for gaming. I've wanted a setup that allows me to use both the macOS functionality for day to day work, but also give me the flexibility to experiment with PC gaming on sthe site. My plan right now is to use Boot Camp on the Mac Mini to dual boot into Windows 10 and start playing around with PC gaming. Early comments on some eGPU forums hint that eGPU usage in Boot Camp may work better on the Mac Mini than a MBP because the Mac Mini won't be fighting the need to push to a internal laptop display and the Mac Mini uses an integrated graphics card, not a dedicated discrete card.
---
Yes, Intel does have a refresh slated i5 and i7 processors for Q4 2018. ↩

This what 12:30am purchases look like. ↩

Because the 2014 update was actually a step backwards. ↩

The "modicum of skill" also appears to be a special Torx screwdriver that includes a hole for the security pin Apple uses on the access panel. ↩